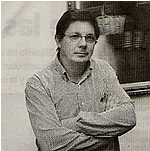 The painter Vicente Martínez is born in Burgos (Spain) in 1958, city in which resides currently. Fan to the painting since he was very young, presents its work for the first time in public in the year 1997 and currently already has participated in numerous individual and collective expositions, over all the country.
Its painting evolves since a classical conception of still-life in a first epoch, up to now present in which treats the objects that represents realistic but in compositions submerged in spaces surrealists or abstract.
"With the pictures I try to awake memories that evoke the infancy, the life of the towns, the trade lost, using objects that no longer see, but that form part of our nearly passed, tricycles, old baskets of wickerwork, children that look at, old vehicles, or a simple one lamb, they leave its apparent solitude to become protagonists of a fantastic and innocent world, that can induce in the spectator an anxiety or yearning".
A pleasant picture finally, that traps the look of the spectator and induce toward a different world but at the same time "still very nearby".